Roller Blind Fabrics Types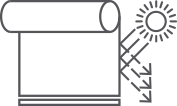 Block Out Blinds
Block out blinds will stop the sun, keeping your home shaded all year long. Perfectly suited to all rooms in your home but specially great for privacy in bathrooms and bedrooms.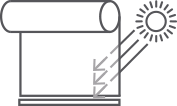 Light Filtering Blinds
If you want a light filled room and are not concerned about high level privacy then a light filtering blind is perfect. They impede the view from inside and outside but at the same time allow light to fill the room. At night they will reveal silhouettes so don't private great privacy.
Specific Fabric Types
Suitable for Wet Areas
Bathrooms are notorious for dampness and moisture build up. Poorly designed bathrooms have poor air circulation and little natural light which is a recipe for mildew. Our blinds rated "suitable for a wet area" are ideal for these type of rooms.
The fabric type makes them less likely to…
Easy to Clean Blinds
Oils ain't and oils and blind are most certainly not all the same. Some blinds simply because of the nature of the fabric material are easy to clean. When you see this symbol next to a blind fabric it means the fabric has been rated "easy to clean".
This is particularly important if you have a blind in a kitchen near your cooktop. The build up of fatty residue over time can be difficult to clean, but with this fabric it is much easier.
Don't forget these four reasons for purchasing our roller blinds.